By Afua Eshun and Ziad Hamoui, Borderless Alliance
7 June 2023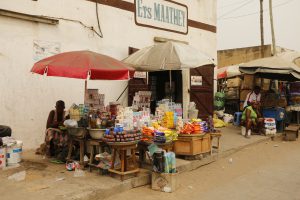 Doing business in Africa is more costly and risky than in other parts of the world. There are longer delays, heavy procedures, weak infrastructure, and governance challenges. National and regional laws are not enforced for everyone. This leads to a slower pace of economic integration and development, where local actors are unable to unlock their full capacity and compete in today's globalised economy.
To address the implementation gaps of the ECOWAS Trade Liberalisation Scheme (ETLS), the West Africa Trade Hub, rolled out a trade advocacy campaign, "Borderless" with a broad coalition of stakeholders in 2010. Soon after, "Borderless Alliance", a multilateral partnership of private and public sector stakeholders, was founded. It aims to promote regional economic integration and the free movement of goods and people by tackling barriers to trade.
Borderless Alliance's major strong point is its extensive network across West Africa which brings together local governments, border agencies, national governments, development partners, economic operators, and regional economic communities. It allows rapid communication of challenges and enables decision makers to resolve such challenges swiftly. It provides capacity building and awareness-raising initiatives to actors in trade and transport sectors on regional, continental, and international trade rules and protocols. This helps actors better understand the rules, improves their businesses and ultimately their livelihoods.
The Borderless Alliance set up "Border Information Centers" at certain border crossings to help resolve problems and expedite the clearance of goods. This involves disseminating knowledge, providing training on best practices, as well as facilitating dialogue across stakeholders. The Alliance's electronic platform identifies and helps resolve issues around Non-Tariff Barriers (NTB) hindering the free flow of goods and services. The platform enhances the reporting, processing, and monitoring of NTBs and aims to promote a better business environment.
Three key lessons learned from Borderless Alliance's regional advocacy experience are:
Policies are more likely to be implemented and enforced when adequate prior consultation takes place.
Policy makers and users are jointly responsible for trade facilitation and regional integration.
Multi-stakeholder partnerships can offer a platform for successful and inclusive collaboration across borders for the benefit of all.